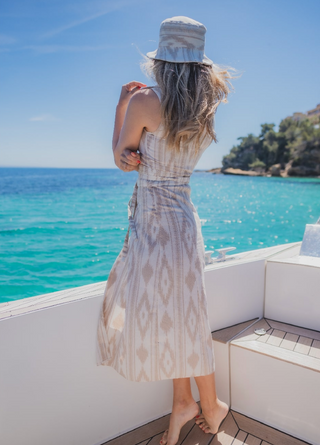 IKATELA is a project born of love for the island of Mallorca, along with the determination to improve every day and add value to the people and our environment.We believe in local commerce and the people of the island. We believe that excellence and quality are the result of great dedication.
We believe in the artistic heritage of the past and in craftsmanship.We live the Slow Fashion principle not only in our work but see it as a way of life.
Slow for us means to flow and let go, always with a clear vision of where we are going.We respect the natural production times, we pay attention to the quality of our products and we are committed to a sustainable fashion.LESS IS MORE!
Timeless, durable & versatile
Following our philosophy LESS IS MORE, at Ikatela we offer garments that fit the figure and go beyond temporary trends.



Our garments are designed to last and can be worn in virtually every season. After all, a small closet of stylish, quality clothes is a useful closet.
About
IKATELA Mallorca is a young, innovative and professional company dedicated to the creation of fashion with island character.

We are committed to a business model that is creative, authentic and ethical at the same time. Our warm and friendly personality sets us apart from the anonymous and large companies in the industry.

We want our customers to feel unique and special when they order from us and wear our products. For us, each garment is like a small work of art. Our qualified team, promises excellent customer service.